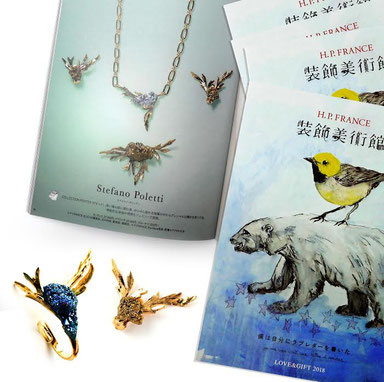 Since 2013 LOVE & GIFT is a donation campaign created by H.P.FRANCE, a Japanese luxury retail giant, to increase the gift market in Japan during the holidays.
In this edition 2018 Stefano Poletti Bijoux is present in the catalogue with some selected pieces of our Pépites collection, created exclusively for the occasion.

Depuis 2013, LOVE & GIFT est une campagne de dons créée par H.P.FRANCE, géant japonais de la vente au détail de produits de luxe, afin d'accroître le marché des cadeaux au Japon pendant les vacances.
Dans cette édition 2018, Stefano Poletti Bijoux est présent dans le catalogue avec quelques pièces sélectionnées de notre collection Pépites, créées exclusivement pour l'occasion.

Dal 2013 LOVE & GIFT è una campagna di donazioni creata da H.P.FRANCE, colosso giapponese del luxury retail, per incrementare il mercato dei regali in Giappone in occasione delle feste.
In questa edizione 2018 Stefano Poletti Bijoux è presente a catalogo con alcuni pezzi selezionati della nostra collezione Pépites, creata in esclusiva per l'occasione.