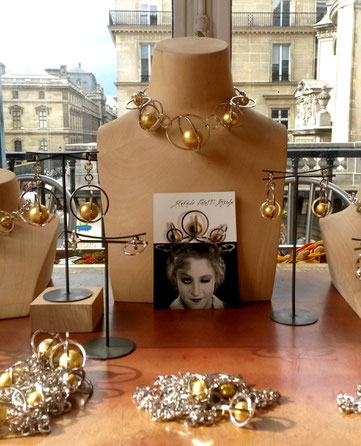 Introducing Metropolis, Stefano Poletti's new jewellery collection for autumn-fall 2016. The graphic elegance of the art deco era is at rendez-vous with a bold retro futuristic style always timeless, perfect for evening wears.
This collection use mirror polished metal for high light shine. These bijoux are like physics instruments to catch the invisible forces and magnetics power fields around us ! 

Stefano Poletti présente la nouvelle collection:Metropolis , ses bijoux pour l' automne-hiver 2016.
L' élégance graphique des années 30 est au ren­dez-vous pour un style rétro futuriste, toujours aussi percutant et intemporel en accessoire pour vos tenues du soir.
Cette collection propose un métal poli miroir pour réfléchir la lumière. Des bijoux tels des « instruments » de phy­sique pour capter l' invisible qui nous entoure: les champs magnétiques ou la force gravitationelle de notre planète !

Stefano Poletti presenta METROPOLIS, la nuova collezione di bijoux per l'autunno/inverno 2016. L'eleganza grafica degli anni 30 si incontra con uno stile rétro futurista sempre attuale, perfetto per un night look senza tempo.
La collezione reinterpreta materiali come il metallo lucidato a specchio per splendere e riflettere la luce senza pari, creando così dei bijoux unici che, come degli "strumenti" legati al mondo della scienza e della fisica rilevano e catturano le forze invisibili che ci circondano: i campi magnetici e la forza gravitazionale del nostro pianeta!