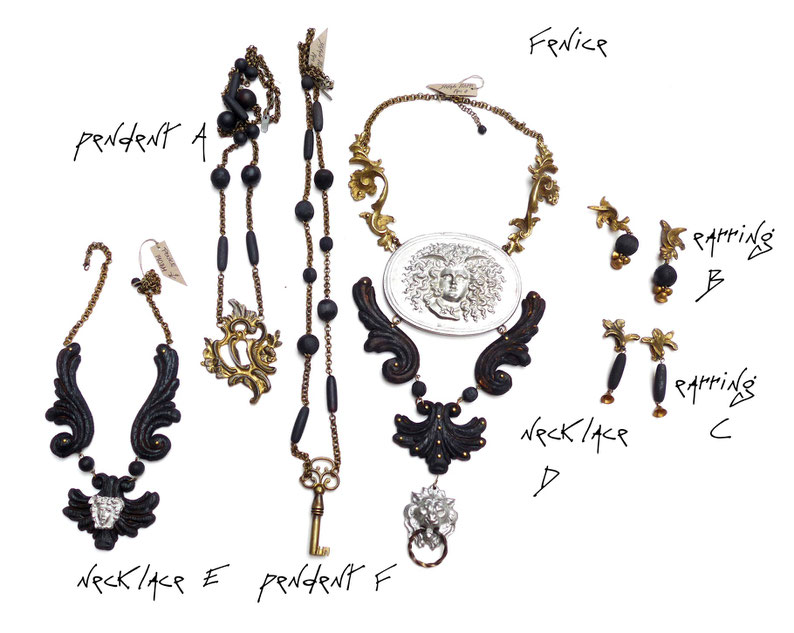 FENICE collection
Year : 2005
Material: bronze , pewter, wood burned
Inspiration : the famous fire of the Theatre La Fenice in Venice.
Nostalgic jewelry, as made with the debris found in the rubble.

Collection FENICE
Année de création : 2005
Matière :   bronze, étain, bois brulé
Inspiration :   le fameux incendie du Théatre La Fenice de Venise.
Des bijoux  nostalgiques, comme réalisés avec les débris trouvés dans les décombres.

Like the Phoenix, a Venetian palace has risen from the ashes. An eccentric, it's owner saved ornamental pieces from the fire such as scrolls, bronze keys and locks, pewter cameos and pearls of burned wood. From those raw materials, given a patina by time and the flames, she has made an amazing collection of necklaces, brooches and earrings.
She can now escape into the world and shine for ever... A baroque, precious and unconventional collection.


Tel le phenix, le palais vénitien renaît de ses cendres. Excentrique, sa propriétaire a sauvé des flammes des pièces ornementales: volutes, serrures et clés en bronze, camées en étain, perles de bois brûlé… A partir de ces matériaux bruts, patinés par le temps et les flammes, elle s'est confectionné une étonnante collection de colliers, broches et boucles d'oreilles, pour sortir à nouveau dans le monde et briller encore et toujours. Une collection à la fois baroque et précieuse et non conventionnelle.