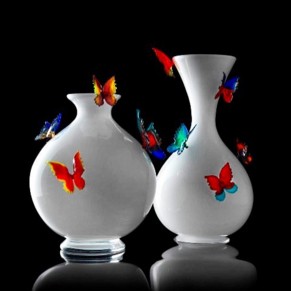 To celebrate the arrival of summer I took inspiration from one of my most successful piece: The Butterfly vase.
It's from its lines that the round design of Daisy takes shape.
I tried to capture the lightness and the freshness of this dazzling white from the long walks on the countryside, with its fields full of daisies that look towards the Lake of Como.  
Then there was  the desire to return to Venice and visit the furnace of my craftsman in Murano to get from his glass these hand-forged flowers, one by one.
So similar, so different: Garlands and bouquets that smell like the sweet scent of spring, simple and sincere flowers that I managed to recreate only through the  interpretation of the white purity of daisies.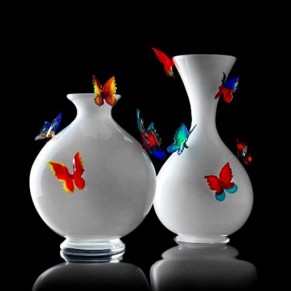 Pour célébrer l'arrivée de l'été  je me suis inspiré d'un de mes vases que j'aime le plus, Papillons, dont découlent les formes arrondies de Daisy. 
J'ai cherché de capturer la légèreté et la fraîcheur de ce blanc éblouissant pendant mes promenades dans les champs pleins de marguerites qui regardent le lac de Côme.
Et puis il y avait le désir de retourner à Venise, dans la fournaise de mon verrier à Murano pour réaliser ces fleurs en verre, forgées à la main, une par une. Si semblables, si différentes, guirlandes et bouquets au parfum de printemps. De blanches marguerites, fleurs simples et sincères dont j'ai capté la pureté .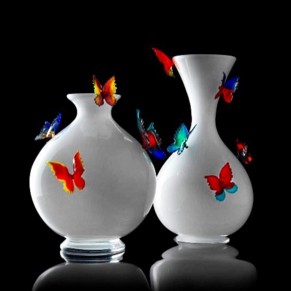 Per celebrare l'arrivo dell'Estate mi sono ispirato ad uno dei miei vasi di maggior successo: Farfalle.
Da esso derivano le tondeggianti forme di Daisy . Dalle passeggiate nei campi pieni di margherite che guardano il lago di Como ho cercato di cogliere la leggerezza e la freschezza di questo bianco abbagliante.
E poi c'era la voglia di tornare a Venezia, nella fornace del mio artigiano di Murano per ottenere dai suoi vetri questi fiori forgiati a mano, uno ad uno. Così uguali, così diversi: ghirlande e bouquets che hanno un profumo di primavera. Fiori semplici e sinceri che sono riuscito ad interpretare solo nella candida purezza delle margherite.